Currently, LLDPE trading manual is provided in Chinese language only, which can be downloaded from DCE's Chinese website, under the Education section.
China LLDPE Production and Consumption
Linear low-density polyethylene (or LLDPE for short) is a plastic product most commonly used for the production of plastic bags and sheets, though it is found in a wide range of other products including toys, pipes, cable coverings, lids etc. In 2009, global production reached 17.24 million tons with a market value of US$ 24 billion. China's share of the production that year was 3.1 million metric tons (MT), and total consumption was 5.3 million MT.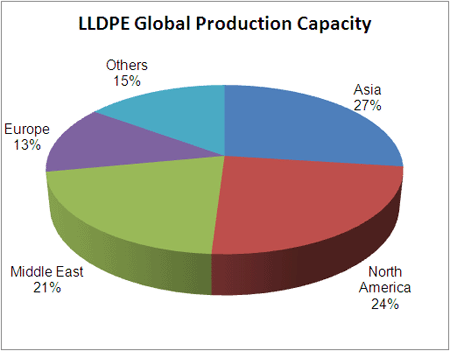 Both domestic production capacity and actual LLDPE production have increased at a nearly 10% average rate throughout the last decade, surpassing 300 million MT in 2009. However, despite its rapid growth, production has been unable to keep up with increased demand, and thus imports have increased over the last decade to meet the demand. LLDPE production is relatively spread out across China, though it is more highly concentrated in Northern and Eastern regions. There are 15 key firms involved in production, with the largest being Sinopec and PetroChina: these two firms alone account for 88% of domestic LLDPE production.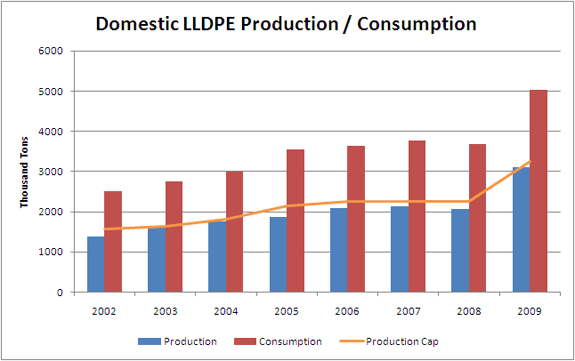 At present, nearly three-fourths of all domestic LLDPE consumption is used in the production of plastic film, with the rest going toward producing moulds, sheeting and other uses. Consumption has more than doubled in the last decade, reaching nearly 5 million MT in 2009. Demand is expected to reach nearly 6 million MT in 2010. Consumption of LLDPE is spread out across the mainland, with Eastern and Southern China being the primary consumption regions: together they account for around 60% of domestic consumption.
Imports and Exports
From 2003 to 2009, imports of LLDPE doubled, jumping from 1.04 million MT to 2.03 million MT. China's largest provider of LLDPE is Saudi Arabia, which shipped 381,000 MT of the product, or 17% of all imports, in 2009. Other major providers of LLDPE include the USA, Singapore, South Korea and Canada. China's primary port of entry for LLDPE is Shanghai: 33% of all imports entry the country through the port there. Other primary ports of entry are Tianjin, Qingdao, Shenzhen and Huangpu.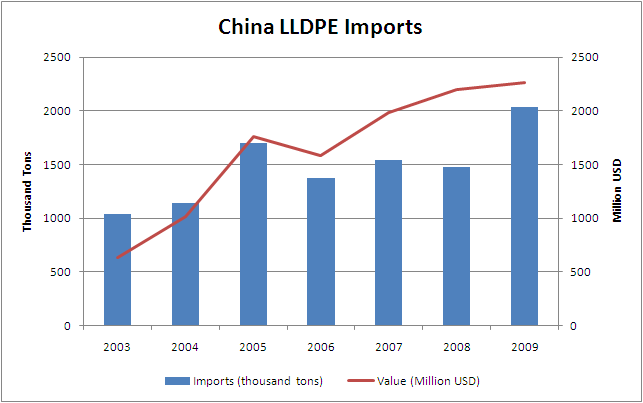 Volume and Open Interest Trends
LLDPE trading at the DCE has increased rapidly since the product was first listed on July 31st, 2007. Average monthly trading volume in the first six months of trading was around 63,000 contracts per month, but less than three years later, average monthly trading volume had jumped by 6,100% to 3.9 million contracts per month.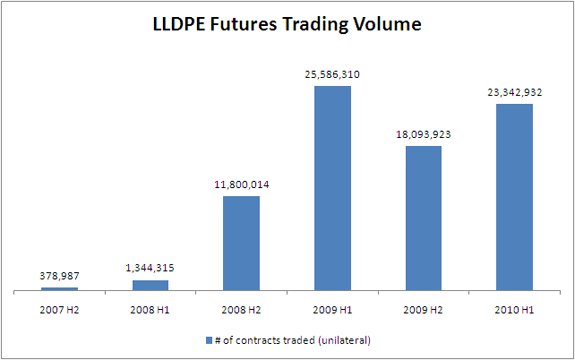 Starting with the founding of the DCE on November 18th, 1993, Corn futures were the exchange's key product. Corporate participation in LLDPE futures trading has been extensive and continues to grow. By the middle of 2009, nearly 1,000 corporate customers had participated in LLDPE trading, accounting for just over 10% of total trading volume. Throughout much of the first year and a half of trading, corporate customers held around half of all LLDPE open interest, though by the beginning of 2009 this amount had fallen to around one-third. Total open interest has continued to rise throughout the life of the product, exceeding 100,000 contracts for the first time in July 2010.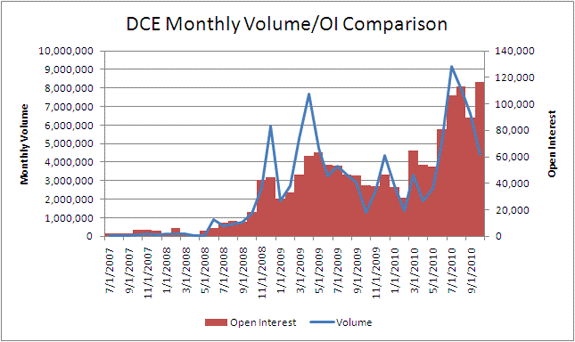 Price Trends
LLDPE prices have fluctuated greatly since first listing in mid-2007. Prices hit an all-time high on June 10th, 2008 of CNY 16,395 per metric ton (MT). Not even six months later, prices had fallen by over 60%, dipping below CNY 6,000 per MT on November 11th. Since then, prices have been more stable, averaging CNY 10,790 per MT for the first 10 months of 2010. Prices have been highly correlated (R2 = 0.8852) with London Metal Exchange LLDPE futures prices.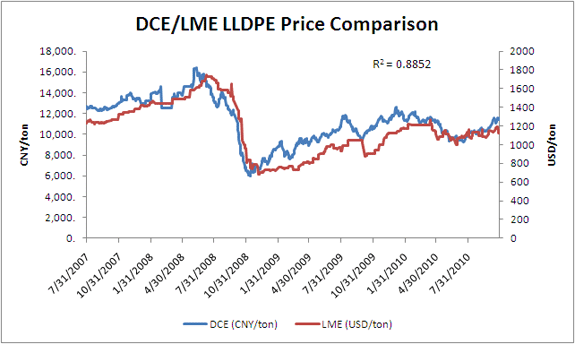 Trading Patterns
LLDPE contracts are offered for every month of the year, though the large of majority of LLDPE futures trading activity and open interest is concentrated in odd-numbered month contracts (January, March, May, July, September and November). Open interest tends to be concentrated in the six months prior to each contract's respective delivery month.
Delivery
As of October 31st, 2010, 198,330 MT of LLDPE have been delivered through the DCE's system. LLDPE deliveries at the DCE are relatively small, with only 0.04% of all contracts going to delivery. However, delivery amounts have been steadily increasing. Though only 7,335 MT was delivered in 2008, over 100,000 MT have been delivered in the first ten months of 2010.